PADI Open Water Course
5
.
8 reviews
Get your PADI Open Water Diver certification with Dive Grenada and be transformed from complete beginner to competent diver in only 2 1/2-3 days. PADI Open Water Diver is the first scuba certification level which gives you the foundational knowledge and skills needed to dive with a buddy, independent of supervision.
This course is a full certification diver training for a beginner diver; with dive theory, knowledge review and assessments, confined water (pool) training and 4 open water (ocean) dives.
All participants must be able to swim.
Phase 1: Knowledge Development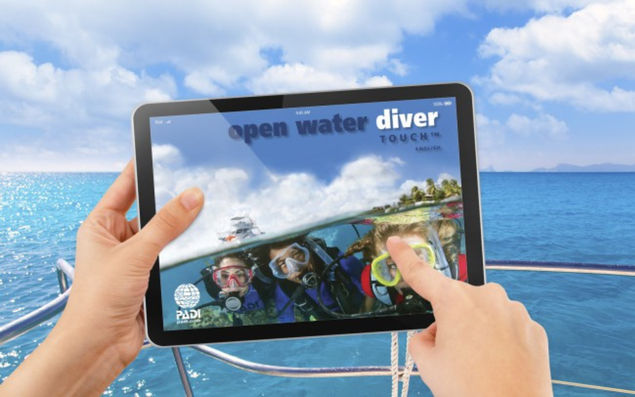 You must be at least 10 years old, able to swim, and in good physical health to enroll in a scuba diving course. If you meet these qualifications, the first thing you'll do is learn scuba diving fundamentals during phase one, 'Knowledge Development'.
During knowledge development, you'll learn all about scuba equipment, familiarize yourself with scuba terminology, and watch videos of diving skills. It is self-study, so you control the time it takes for you to comfortably go through the material. Most people pace themselves and complete their knowledge development over a few weeks but it can be completed in a matter of days.
The most popular choice for knowledge development is PADI eLearning®, an independent study option where you read, watch videos, and take quizzes using your computer or mobile device. Complete your scuba studies whenever, wherever it's convenient. On average, the program requires eight hours to complete.
At the end of knowledge development, you'll take a final exam to ensure you have a thorough understanding of scuba diving essentials. Your PADI Instructor will answer any questions you may have along the way.
Phase 2: Confined Water Dives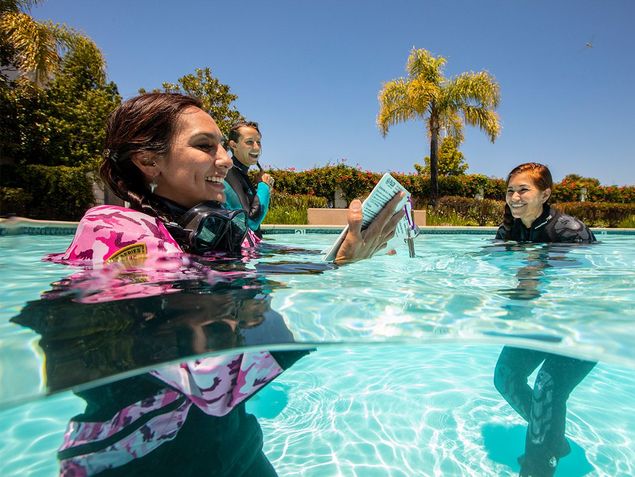 During phase 2, you'll take your first breath underwater in a calm environment such as a swimming pool or the calm sea right outside of our shop(known as "confined water"). You'll practice basic diving skills such as clearing water from your mask, ascending and descending. Your instructor will demonstrate and review the skills with you until you're comfortable performing them on your own. When you feel ready, you'll move on to the final phase, open water diving!
Phase 3: Open Water Dives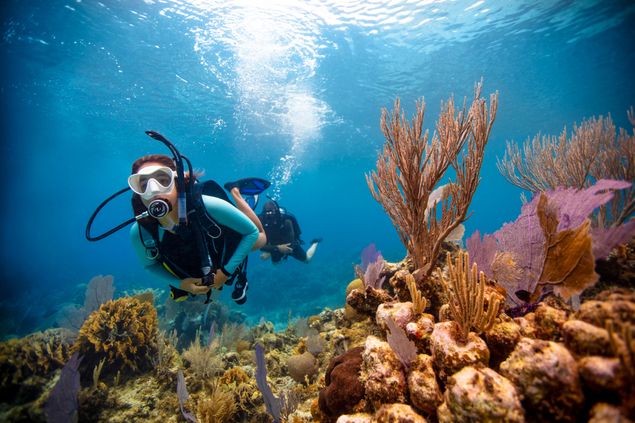 You'll learn to dive by diving to a maximum depth of 18 metres/60 feet. The open water course includes four open water dives in total, usually done over 2.5 days. With your instructor by your side, you'll practice the skills you learned in confined water, and explore the underwater world.
After completing four open water dives and all course requirements, you become a certified diver – a title that will last a lifetime. Now you are free to explore the other two-thirds of our ocean planet! As a PADI certified Open Water Diver, you'll have access to many exciting PADI courses that help you reach your diving goals—whether they be exploration, ocean conservation, underwater photography, wreck diving, or your other favorite interest areas.
PADI Open Water Certification
Full certification course completed in 2.5-3 days - student signs up, we send online learning material and forms for them to complete prior to arriving followed by confined water sessions and 4 open water dives with an instructor.
Day 1: spend the morning in the pool practicing skills 0900-1200, break for lunch, finally an open water dive with their instructor (1245-1500).
Day 2: spend the morning in the pool practicing skills 0900-1200, break for lunch, finally an open water dive with their instructor (1245-1500).
Day 3: Final two open water dives take place with an instructor during our morning two tank dive trip 0800-1200.
Our highly experienced instructors guide you through the essential dive theory, pool-based diving skills training and four fantastic open water dives in the beautiful Caribbean Sea. We offer quality training in small groups (individually if desired). This fun and rewarding learning experience leads to a lifelong internationally acclaimed PADI diving certification. Work conveniently online to complete your course theory in advance using the popular PADI e-learning system.
Equipment

Instructor

PADI E-Learning

4 Open Water Dives

Confined Water Pool Sessions

Light Refreshments
Frequently asked questions
Many new divers worry that they should have all their own gear before they even start the course. Don't! We will supply you with everything you need. Give yourself time to learn to dive using different types of equipment, as this will help you to find out what suits you best before investing. Talk to your new dive buddies and instructors – they'll be able to give you advice on the best entry-level equipment. Most new divers start off buying at least their own mask, fins, and computer, but it's fine to buy these after your course! We can talk you through the options available.
The open water course is a lot of fun, and very rewarding! But it's challenging too, so you should expect a little physical exertion – carrying gear in a hot climate, for example, and plenty of action in the water! You'll also be required to complete a waterskills assessment, but don't worry – no one's expecting you to be an Olympic swimmer. If you're not too sure about swimming more than 100m, or about floating in water too deep to stand up in, then perhaps think about taking a couple of swimming lessons before starting your course. This will fill you with confidence when the time comes, and will certainly help your diving skills too. Done right, diving is a safe and enjoyable activity for everyone, from children to adults. Doing a bit of research first, and thinking about what you'd like to get out of the course, will help you to make the right choices when it comes to your first ever diving experience, leaving you with great memories and a love for diving!
If you are not ready to book yet but want to get started on the e-Learning follow the link below and use promo code LEARNING when booking with us in the future to get a discount on your course. https://www.padi.com/courses/open-water-diver?irra=16533
Cancellation Policy
This payment is non-refundable within 14 days of the first scheduled day of diving/PADI Training with Dive Grenada.
This payment is non-refundable within 14 days of the first scheduled day of diving/PADI Training with Dive Grenada.
8 Reviews

Verified